Watching waves during a winter storm at Shore Acres State Park is awe-inspiring, so it's no wonder why photographers and visitors come out in droves for Winter storm watching . If you are among the visitors who plan to visit Oregon's Adventure Coast: Coos Bay, North Bend, Charleston between January 1st, 2022 through February 28, 2022, you can receive 15% off lodging at participating properties ! Please note that terms and conditions apply.
Shore Acres State Park is considered the premier storm watching spot on the entire Oregon Coast. Perched on top of an 80 foot cliff, this location allows for a safer distance above the waves while enjoying fantastic views. The park also has a storm watching hut where visitors can view winter storms. Check out these photographs taken at Shore Acres by local photographer, Steven Micheal .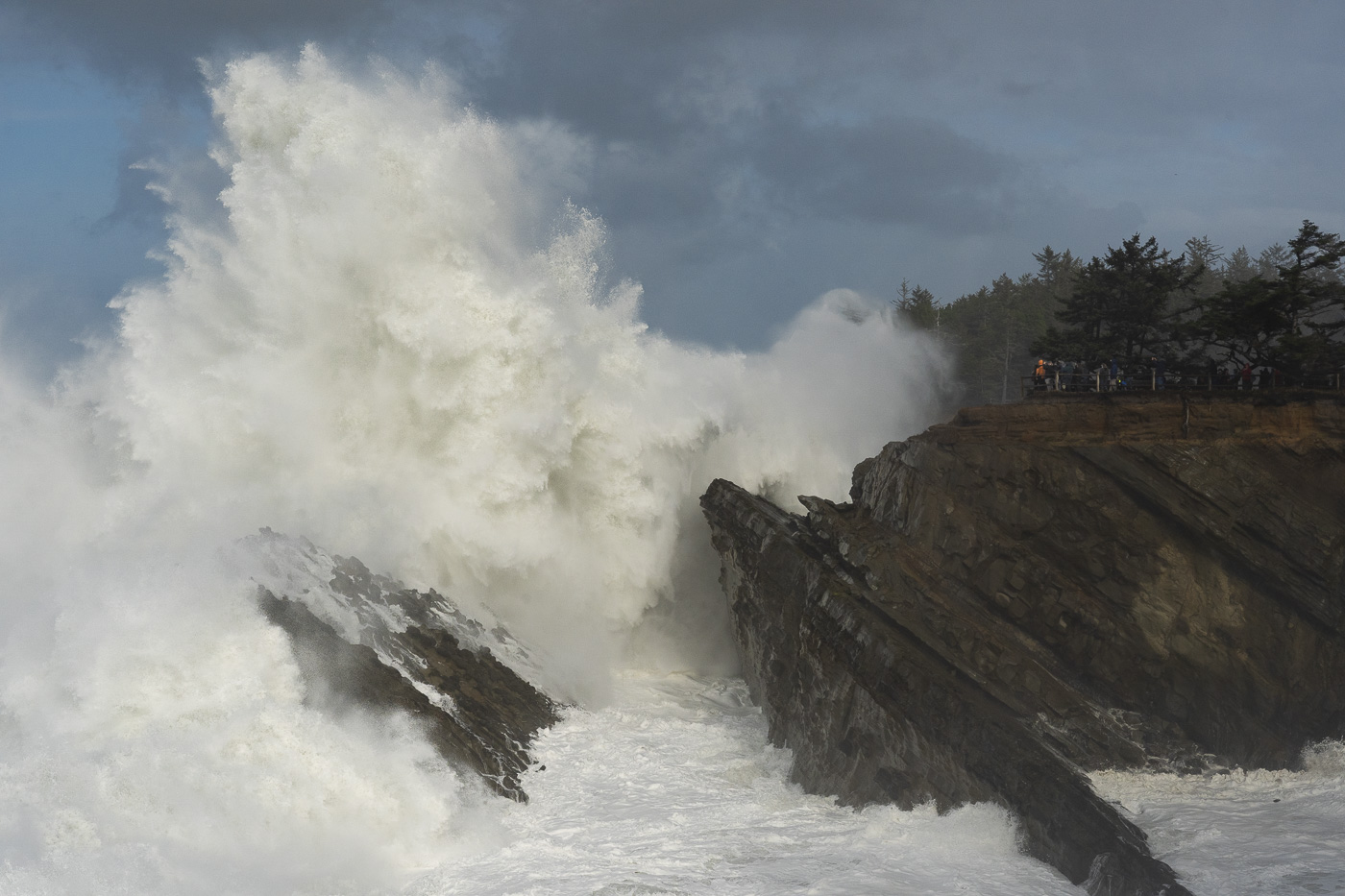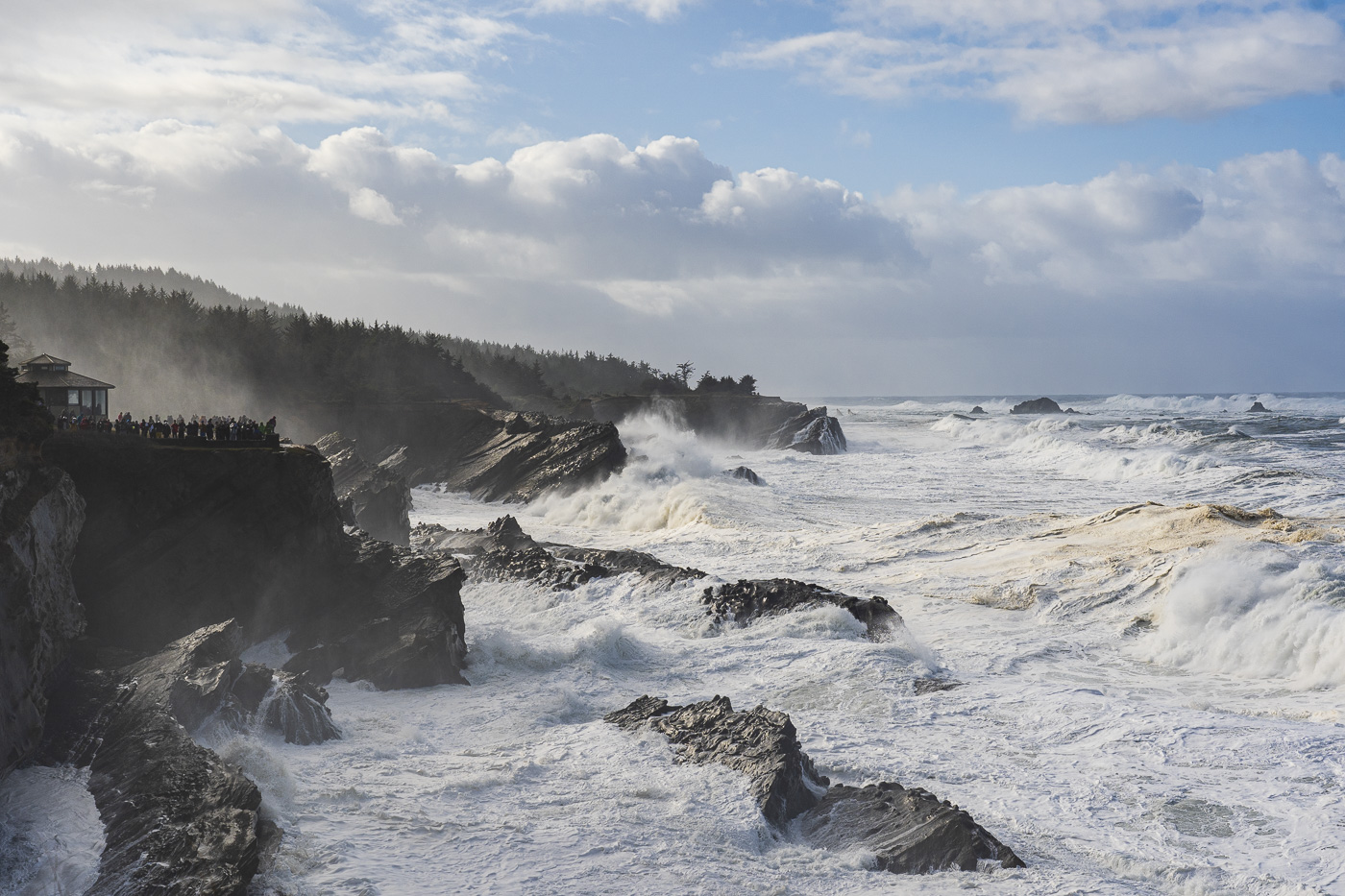 Here are some Linda Prefontaine shared with us…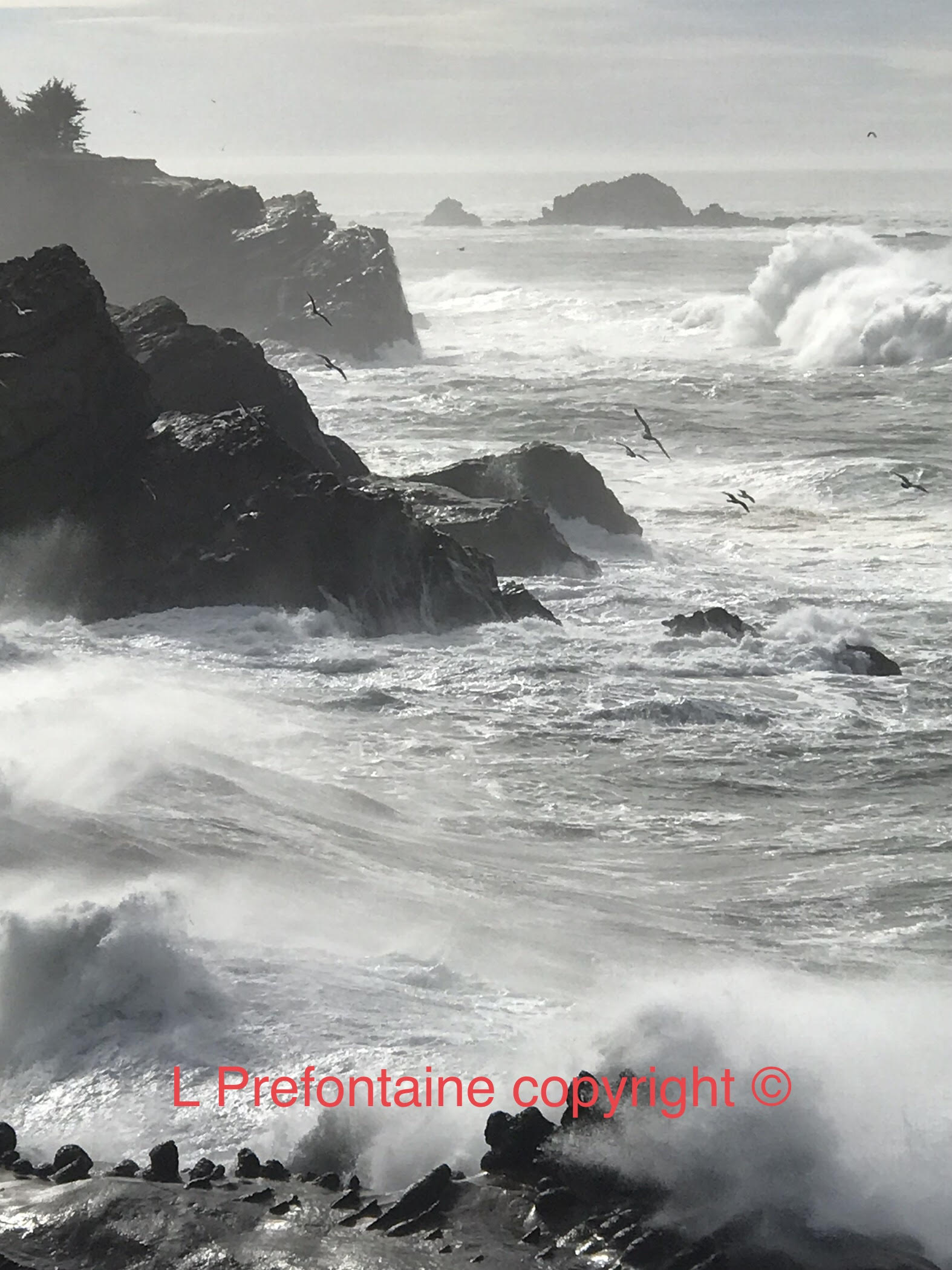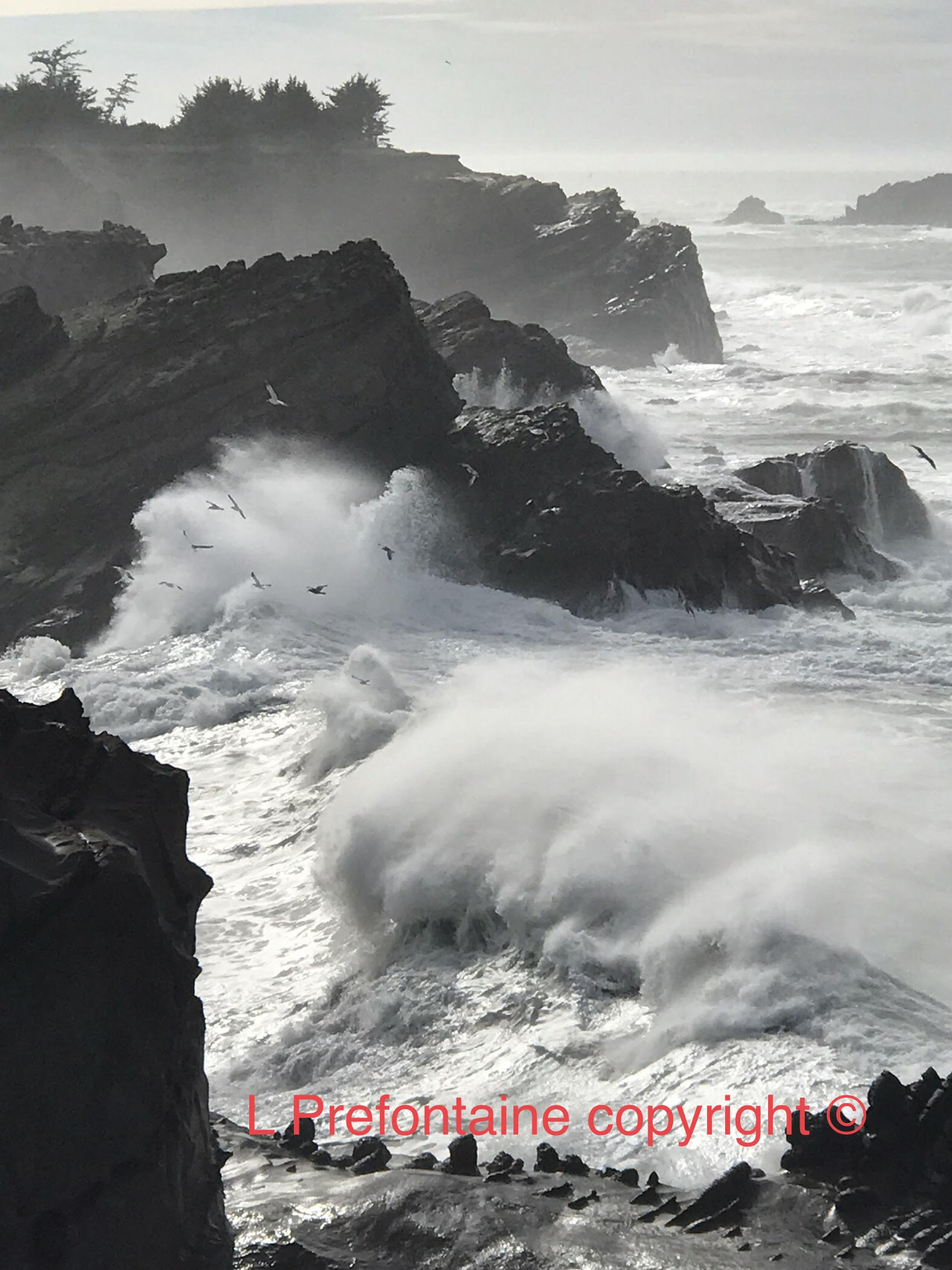 Enjoy these photos taken by Erik Urhahl …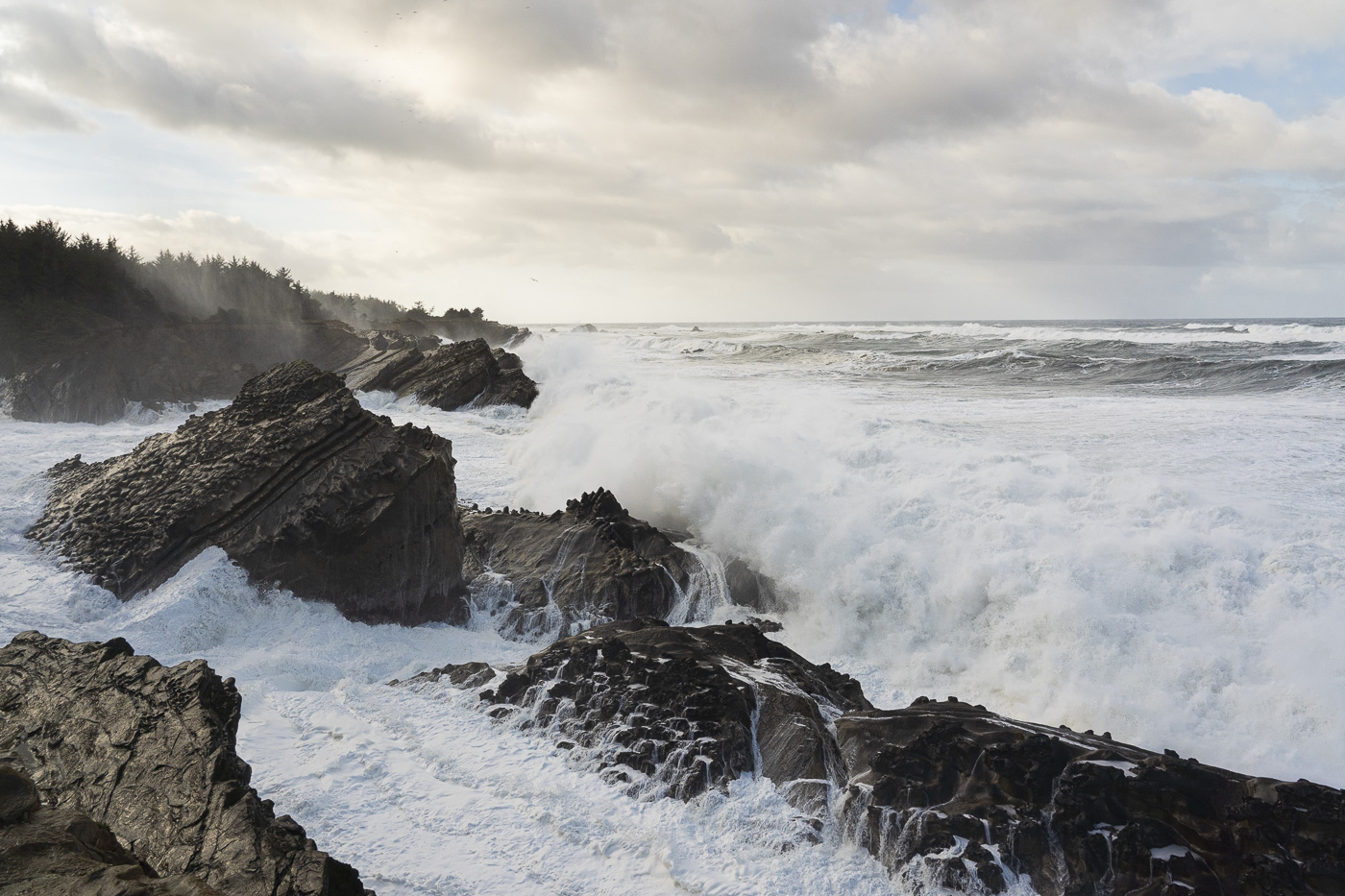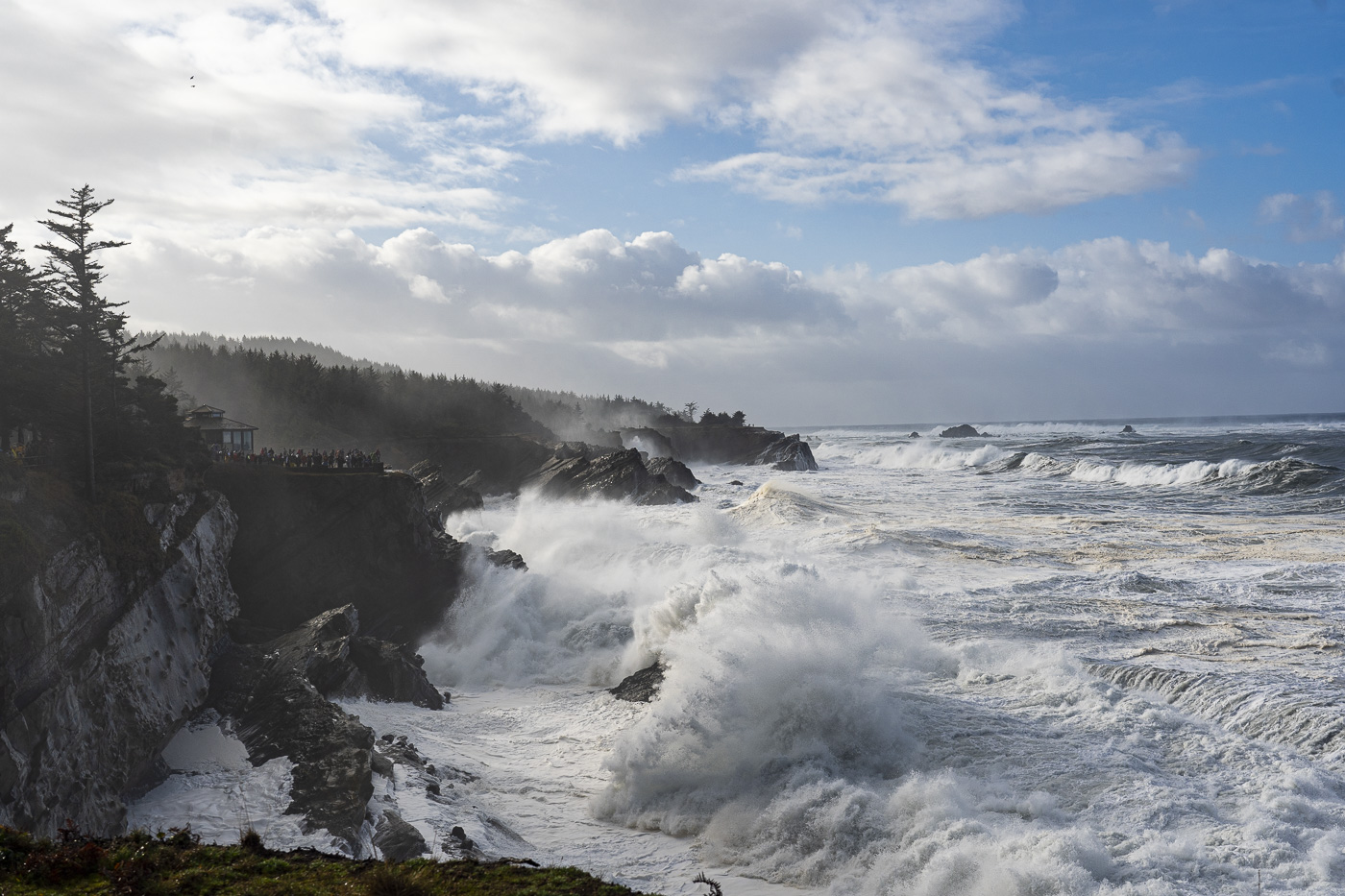 A few others…
Other storm watching options on Oregon's Adventure Coast include the bluff overlooking Bastendorff Beach, Sunset Bay State Park and other parks along the Cape Arago Beach Loop.
Oregon's Adventure Coast Winter Storm Watching Quick Tips
NEVER TURN YOUR BACK ON THE OCEAN and stay away from surf zones and jetties, as these can be especially dangerous during a winter storm. Beaches may become hazardous due to dangerous surf conditions.
Keep an eye on the weather! Check the local, extended forecast and/or weather websites like National Weather Service , AccuWeather and Northwest Weather Network, and pack your bags when swells of 20-30 feet are predicted.
We will post on our Facebook page anytime we have a High Surf Advisory or Warning. If they happen to coincide with a King Tide, we'll note that too!
Make sure you pack quality rain gear along with light, windproof and waterproof jackets and sweaters to help keep the cool, damp wind out. Don't forget rainproof shoes or boots!
There is never a dull day when you live near the mighty Pacific Ocean and there's plenty to do in the winter ! Research some itineraries or trip ideas, or follow Oregon's Adventure Coast Facebook to source suggestions on the best spots to visit, eat, stay and explore.
You can also find inspiration by following @travelcoosbay on Instagram & Twitter !
Binoculars can enhance viewing of the spectacular waves and for potential gray whale sightings in December and January.
Be aware that some locations, like state parks, may charge a fee for access. Shore Acres State Park charges a $5/vehicle fee. Be sure to bring cash or display your State Park Annual Pass
Here are some additional resources to help you plan your next adventure on Oregon's Adventure Coast: Coos Bay, North Bend, Charleston.
What is the Difference Between High Surf and King Tides?
Answers to Our Most Frequently Asked Questions About Winter Storm Watching
Ten Things to Do This Winter on Oregon's Adventure Coast
Where & How to Explore the Amazing Tide-Pools on Oregon's Adventure Coast
There is an adventure for everyone on Oregon's Adventure Coast. Learn more about vacation ideas on our site, or contact us for help planning your next trip or family getaway. Click here for directions and other important travel tips, or contact one of our friendly volunteers at the Coos Bay Visitor Information Center on Oregon's Adventure Coast and start planning your trip today!
-——–
Editor's Note: As the developments in Coronavirus (COVID-19) continue to unfold, please follow the direction of our public health authorities, including the CDC, Oregon Health Authority, and Coos Health & Wellness, to protect yourself, our community and our visitors.
If you are ready to travel, we are ready to welcome you back to Oregon's Adventure Coast. However, if you are feeling ill or not comfortable traveling right now, we encourage you to stay home and stay healthy. Let's all do our part to stop the spread of COVID-19. Click here for more information.