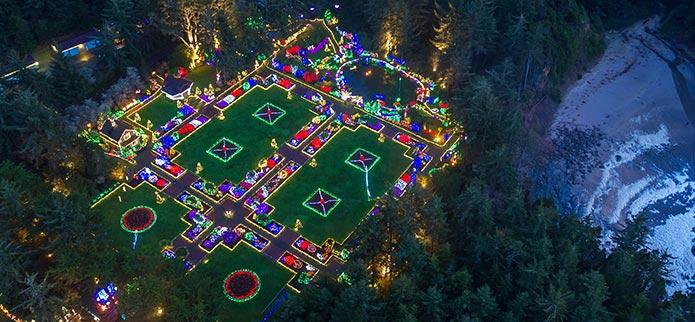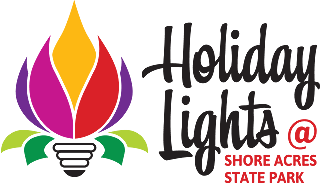 Book your Parking Pass Now - Click Here.
Reminder! You are booking a PARKING PASS not Individual Tickets. ONE PARKING PASS NEEDED NO MATTER HOW MANY PEOPLE ARE IN THE VEHICLE!!!
The brightest and most beautiful place on the West Coast Shines from Thanksgiving to New Year's Eve.
Famous for its beautiful 7-acre botanical gardens and Japanese lily pond, Shore Acres State Park shines with more than 325,000 LED lights, whimsical animated displays, and more. A holiday tradition for the whole family.
This festive annual display debuts on Thanksgiving Day (Thursday, November 23rd) and will light up Shore Acres State Park from 4:30 pm - 9:00 pm each night (including December 24th & 25th) thru December 31st.
BOOK YOUR TIMED ENTRY PARKING PASS!
Holiday Lights visitation will be through a timed reservation system . PASSES ARE PER VEHICLE, NOT PER PERSON! This is an effort to decrease long wait times and backed-up traffic conditions.
Entry into the lights is Free, but you must pay the $5 parking fee per vehicle to park at Shore Acres for the Event - in advance this year.
Here's how to do it!
Pick your day/time to visit - note that half of the parking tickets will be sold in advance with the rest available within 7 days of entry
Visit the OPRD website or click the Book Now Button below to book your time
Pay the $5 fee per vehicle
Print your pass - you must bring the pass with you to enter the park
Have more questions? Call 541-888-3778, the local State Parks office.
NOTE: you will NOT be able to purchase entry tickets at the gate this year. You must do this in advance.
Also Note: if you have an annual park pass (12- or 24-month), the Oregon Pacific Coast Passport, a current OR State Park camping confirmation that coincides with the date of event visit, or a special access pass (see website above for more info), the $5 will be waived. You still have to book ONLINE!! You will need to present your event parking pass AND your special pass at the gate.
Tips to make your Shore Acres visit more enjoyable
Viewing Tips
---
MAKE SURE YOU HAVE YOUR TIMED ENTRY PARKING PASS BEFORE YOU HEAD TO THE PARK!
Fridays through Sundays are the busiest.
Mondays through Thursdays are less busy.
There is less traffic on rainy nights and the lights are beautiful in the rain!
Other Tips
---
$5 parking fee - MUST BOOK ONLINE AS NOTED ABOVE Parking is free with current OPRD Annual Parking Permit, or Coastal Passport, or current Campground Receipt. See information above on how to book your time.
Animals - Dogs and other animals are not allowed outside vehicles at Shore Acres. Exception: Service Animals
Wheelchairs - the park has a few wheelchairs available to those who may need them. These are available on a first-come basis.
Arrive Early - Book an early time slot for the lights and see the ocean waves, the park, and the lights' sparkling transition from daylight to dark!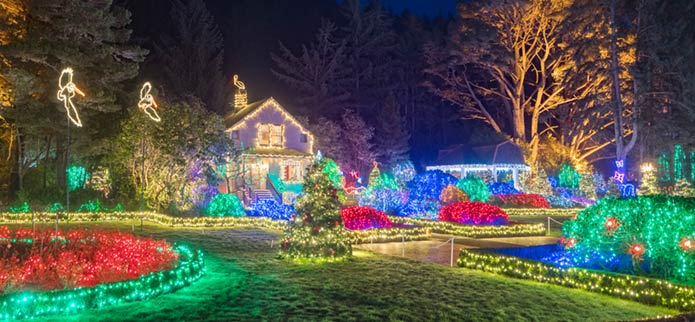 Here are some other things to see and do while in Charleston, Coos Bay & North Bend!
In Charleston, stop in at the Charleston Marine Life Center and discover the marine life and coastal ecosystem just off Oregon's coast. Take a stroll along Bastendorff Beach . You might even see a surfer taking on the waves. And if you have more time this visit, take a fishing charter out of the Charleston Marina.
In Coos Bay, take a stroll along the boardwalk and visit the Coos Bay Visitor Information Center where you will see the 30' lighted tree! Visit the Coos History Museum and explore our area's culture and history. Visit the Coos Art Museum to see the latest exhibition, their permanent collection, and the Steve Prefontaine Gallery. And catch a bite to eat at one of our many casual restaurants and coffee shops.
In North Bend, take a stroll downtown and visit quaint, one-of-a-kind shops and cafes. Take to the ice at the only Ice Skating Rink on the Oregon Coast! (Thanksgiving to Valentine's Day) Cross over the historic McCullough Bridge on your way to Horsfall Beach at the tip of the Oregon Dunes National Recreation Area and one of the many ATV rental locations in the area.