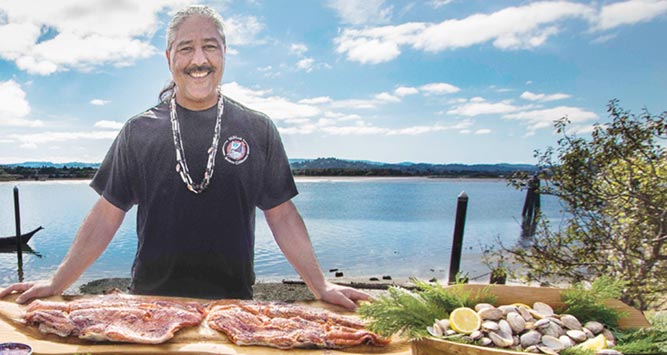 The Annual Mill-Luck Salmon Celebration is a tribute to Native American and Coquille Tribal culture. Don't miss this OUTDOOR FESTIVAL celebrating Native American and Coquille Tribal Culture.
The Traditional Salmon Bake meal will be served
Saturday, Sept 10 | 11:00 AM – 5:00 PM
Sunday, Sept 11 | 11:00 AM – 4:00 PM
Presale tickets will go on sale August 23, 2022. Tickets will be available in Ko-Kwel Gifts and include a commemorative Salmon Celebration tee shirt (while supplies last). Guests may also purchase their meal at the meal tent during the event.
Meal Prices:
In Advance at Ko-Kwel Gifts (with T-shirt while supplies last)
$35 adult/$30 child
At Event Tent (T-shirt not included)
$27 adult/$20 child
The meal includes Salmon, brown rice with cranberries, and traditional Fry Bread with Huckleberry butter.
This fun-filled weekend is full of family events and entertainment.
Tribal canoe races

Outdoor tribal vendors and crafts (demonstrations and hands-on participation)

Traditional salmon bake meal

Live entertainment with authentic Native American dancing, drumming & flute playing
The Festival is located in the south parking lot outside The Mill Casino • Hotel. Bring the whole family for a great weekend of fun! Free to attend.
EVENT SCHEDULE:
FRIDAY, SEPTEMBER 9
7:30 PM - Fire Lighting Ceremony With Coquille Tribal Chief Dr. Jason Younker (Fire Pit – South End of the Hotel)
SATURDAY, SEPTEMBER 10
11:00 AM – 5:00 PM - Traditional Salmon Bake Meal (Salmon Pit) - South End of the Hotel
10:00 AM – 12:00 PM - CANOE RACES
Opening Prayer
Traditional Dugout Canoes
Journey Canoes
Youth Division
Women's Division
Men's Division
Mixed Division (Adults and Youth Mixed)
10:00 AM – 5:00 PM - NATIVE VENDORS, ARTISANS & DEMONSTRATIONS - South End of the Hotel
Demonstrations
Tribal Elders Frybread Booth
Flint Knapping Demonstration and Participation
Weaving Demonstration and Participation
Beading Demonstration and Participation
ODFW Live Salmon Display
Children's Activities
ENTERTAINMENT TENT
10:00 AM Native American Dancing & Drum Groups
12:00 PM Native Flute
1:00 PM Canoe Race Awards
1:30 PM Native American Dancing & Drum Groups
2:30 PM Native Flute
3:30 PM Native American Dancing & Drum Groups
SUNDAY, SEPTEMBER 11
11:00 AM – 4:00 PM - Traditional Salmon Bake Meal (Salmon Pit) - South End of the Hotel
11:00 AM - CANOE EXHIBITION
11:00 AM – 4:00 PM - NATIVE VENDORS, ARTISANS & DEMONSTRATIONS – South End of the Hotel
ENTERTAINMENT TENT
11:00 AM Native Flute
12:00 PM Native American Dancing & Drum Groups
1:30 PM Native Flute
2:00 PM Native American Dancing & Drum Groups
2:30 PM Release the Salmon into the Bay – ODFW (Beach Area)