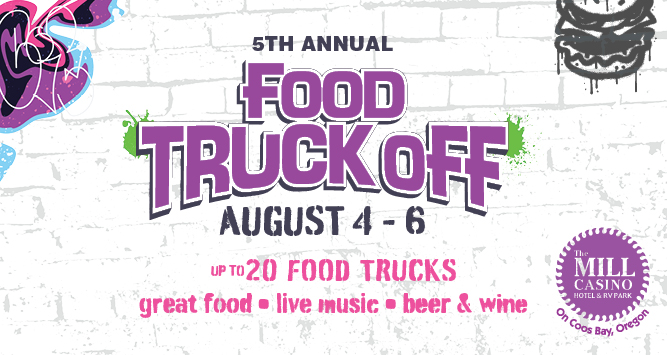 Enjoy a 3-day event featuring food trucks, live music and more.
Bring the whole family to enjoy this great outdoor event. Feast yourself on the goods while the trucks compete in a cook-off for the best in several categories.
This three-day event will feature up to 20 food trucks from the Pacific Northwest. Cast your vote to see which truck will win the People's Choice Award! All trucks will have at least one $4 sample item available for purchase and will also serve from the entire regular menu.
Cash and Credit Cards will be accepted for food purchases at the Food Trucks.
SCHEDULE:
Friday, August 4, 2023 | 4 PM – 8 PM
Saturday, August 5, 2023 | 11 AM – 6 PM
Sunday, August 6, 2023 | 12 PM – 4 PM

LIVE MUSIC!
Friday
Rekless Kompany | 4:00 PM – 8:00 PM
Saturday
Rekless Kompany | 11:00 AM – 1:00 PM
KayB | 1:00 PM – 3:30 PM
Adam Craig 3:30 PM – 6:00 PM
Sunday
Adam Craig | 12:00 PM – 2:00 PM
KayB | 2:00 PM – 4:00 PM
Tickets on sale July 14, 2023 in Ko-Kwel Gifts and at the door. 
$5 general admission per day (portion will benefit the Boys & Girls Club of Southwestern Oregon)

Interested in Competing? Email The Mill's Sales Department  for more information