The Coquilles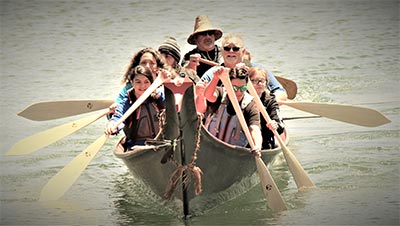 The Coquille Indian Tribe flourished in Oregon's southwestern corner for thousands of years, cherishing the bountiful forests, rivers and beaches of a homeland encompassing more than 1 million acres.
Today we number about 1,100 members, and we control about 10,000 acres of our ancestral homeland. We proudly manage the bulk of those lands as sustainable forest.
Unlike many Indian tribes, we do not use the income from our tribal enterprises to make "per capita" payments to our members. Instead, we focus our efforts on strengthening our membership and building our people's future – with education assistance, health care and elder services.
We proudly uphold the "potlatch" tradition of sharing with the community around us. The Mill Casino-Hotel and our other enterprises contribute more than $20 million a year in local salaries and benefits, and we purchase more than $25 million a year in local goods and services. Our Coquille Tribal Community Fund has distributed millions of dollars to the area's non-profit organizations.

Our Name
Visitors sometimes wonder about the pronunciation of our name. The southwestern Oregon town of Coquille and the nearby Coquille River are both pronounced "ko-keel." So why does the tribe pronounce its name "ko-kwel"?
The simplest explanation is that the name "Coquille" derives from "scoquel," a word for the eel-like lamprey that our people harvested for food. When fur traders and settlers began arriving, the river and our people became known as "Coquell" or "Coquelle."
Although the spelling eventually evolved into "Coquille," our tribe prefers the more traditional pronunciation.
Our Way of Life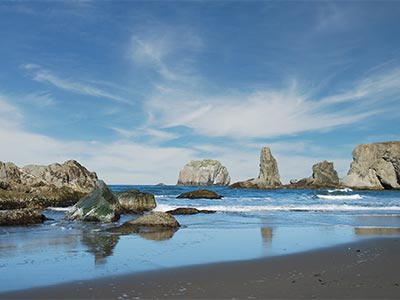 Our ancestors flourished among the forests, rivers, meadows and beaches of southwestern Oregon. The land and water offered an endless variety of life-sustaining resources, and our people adapted ingeniously to this waterside paradise.
Berries, nuts, edible roots, fish, shellfish, and sea and land mammals all were abundant. The yew tree supplied raw material for bows. Arrows were made from hazel or ocean spray. Many plants provided materials for basketry: hazel, bear grass, ferns, cattails and others.
Among all plants, none was more important to our ancestors than cedar. These versatile trees provided logs for houses and canoes, and their bark could be fashioned into rainproof garments. Other cedar products included roofing, blankets, clothing and nets. Our ancestors even used cedar in their ceremonies, burning it for smoky "smudge."
In these ways and others, the forests and waterways provided for all our ancestors' needs.
Our Languages
Our tribe's ancestors spoke two distinct languages. Those living near Bandon and along Coos Bay's South Slough spoke Miluk, a dialect of the Penutian language family. Those farther south and east spoke an Athabaskan dialect, similar to tongues spoken in Alaska and the American Southwest. Many of our ancestors could speak more than one language – especially the women, who commonly married outside their home villages.
Sadly, the arrival of Euro-American culture quickly overwhelmed the native languages of the Oregon Coast. By the 20th century, the remaining Indian people primarily spoke English and the regional trade jargon known as "Chinuk Wawa." Today's Coquille Tribe is working to reconnect our people with our ancestors' languages.
Our Restoration
The U.S. government "terminated" the Coquille Tribe in 1954, denying our status as Indian people. We joyfully regained federal recognition on June 28, 1989, when Congress passed the Coquille Restoration Act. We once again were recognized as a sovereign nation of Indian people.
In the 21st century, some of us are scattered throughout America and even around the world. But many of us still live in places where our ancestors made their homes: Powers, Myrtle Point, Coquille, Bandon, the South Slough, Empire and others. Our eternal bond to this landscape is inseparable from our identity.
Our Heritage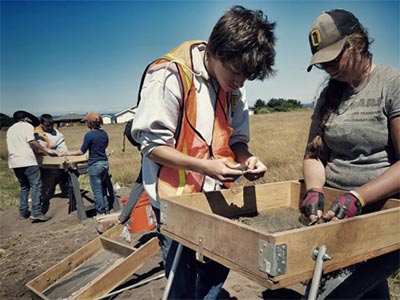 Southwestern Oregon has always been a wonderful place to live. Wherever you go in the region, you're probably walking where our ancestors lived their lives, gathered their food, and buried the remains of their loved ones.
Our tribe works closely with anthropologists and archeologists to research the ancestral past. Major archaeological projects have been conducted along the Coquille River and on the bluffs and shorelines of Oregon's South Coast. This research shows that humans have used and occupied the lands and resources of the coastal region for thousands of years.
Physical evidence of our ancestors' presence is rarely obvious, but artifacts and graves lie beneath many well-used local places. Just like anyone else, we feel heartsick when our ancestors' resting places are violated.
Oregon law prohibits vandalizing or excavating cultural resource sites and removing artifacts, whether you're on public or private land. Please, give our deceased family members the same respect you would give your own.
Our Lands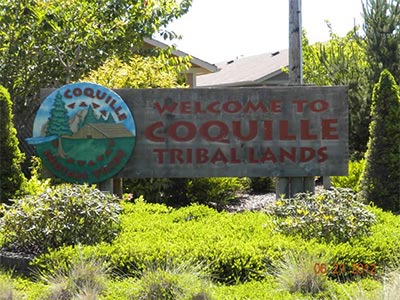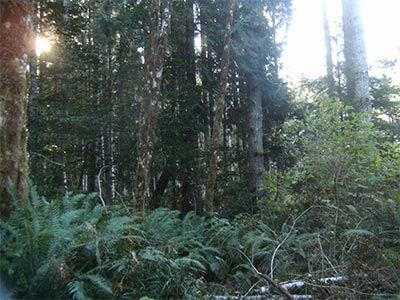 Under a 1996 law, the Coquille Tribe resumed stewardship of 5,410 acres of our ancestral homeland. The Coquille Tribal Forest comprises 14 parcels of timber land in eastern Coos County. The tribe acquired the 3,200-acre Sek-wet-se Forest in Curry County in 2015.
Forest revenue is a crucial element of the tribe's annual budget, supporting health care, education and elder services. Our timber harvest generates approximately 200 jobs for the local community, and up to 3.6 million board feet of timber each year for local mills. The tribe uses innovative forestry management to operate in compliance with the Forest Stewardship Council's stringent certification requirements.
Another 1,100-acre parcel near Empire is home to Kilkich, a community recognized as a model for attractive, livable reservation housing. The same parcel includes the Empire Forest, home to Fourth Creek and Tarheel Reservoirs. The tribe also owns commercial property in North Bend and Medford.
Coquille Indian Tribe
3050 Tremont Ave, North Bend, Oregon, 97459
(541) 756-0904
Further details are at www.coquilletribe.org .