"The rich biodiversity of the estuary has attracted people for more than 1,500 years, and it continues to play a vital role in the commercial, ecological, and recreational life of the South Coast." - www.oregonencyclopedia.org
Slough National Estuarine Research Reserve (SSNERR) is one of the most bio-diverse and beloved destinations on the Oregon Coast, and yet it remains one of Oregon's best-kept secrets. With National Estuaries Week (NEW) happening this month, we thought it would be the perfect time to share what people love about South Slough NERR !
This 5,000-acre natural area is like no other. It encompasses a mixture of open water channels, tidal and freshwater wetlands, riparian areas, forested uplands and open water habitats. South Slough is the perfect destination for families, hikers, kayakers, wild-life watchers, scientists, educators and everyone in between.
There is much to love about this natural gem located in the Coos estuary on the south coast of Oregon. Here is what Oregon's Adventure Coast: Coos Bay, North Bend, Charleston visitors love the most:
#1- Premier Hiking Trails for All Ages & Skill Levels. We frequently hear visitors rave about their hiking adventure in South Slough. It's not uncommon to hear comments like
"This was the most awesome hike I have taken on the Oregon coast, and I have taken quite a few. You will definitely not be disappointed! It's about 3 miles if you do the whole hike. Long, but not difficult. A must do if you want to experience an Oregon hike at its best!" - Kc K., Google Reviews
"Absolutely incredible good hike, not too long for a day hike but not short enough to be a disappointment. On top of that, the scenery is breathtaking!!!" - Successful K., Google Reviews
"What a lovely park! Really nice trails, very comfortable and well made. A beautiful forest hike."- Evan S.
"What a beautiful place to hike! The kids also loved it! Definitely going back again." - Angebah E.
The trails are well maintained and relatively easy to hike in most places. However, there are uphill portions to conquer, so be prepared! From the interpretive center (temporarily closed due to COVID), visitors can explore a short nature trail or hike to the slough via several longer trails. Here's a map and brief description of the trails you will find at SSNERR: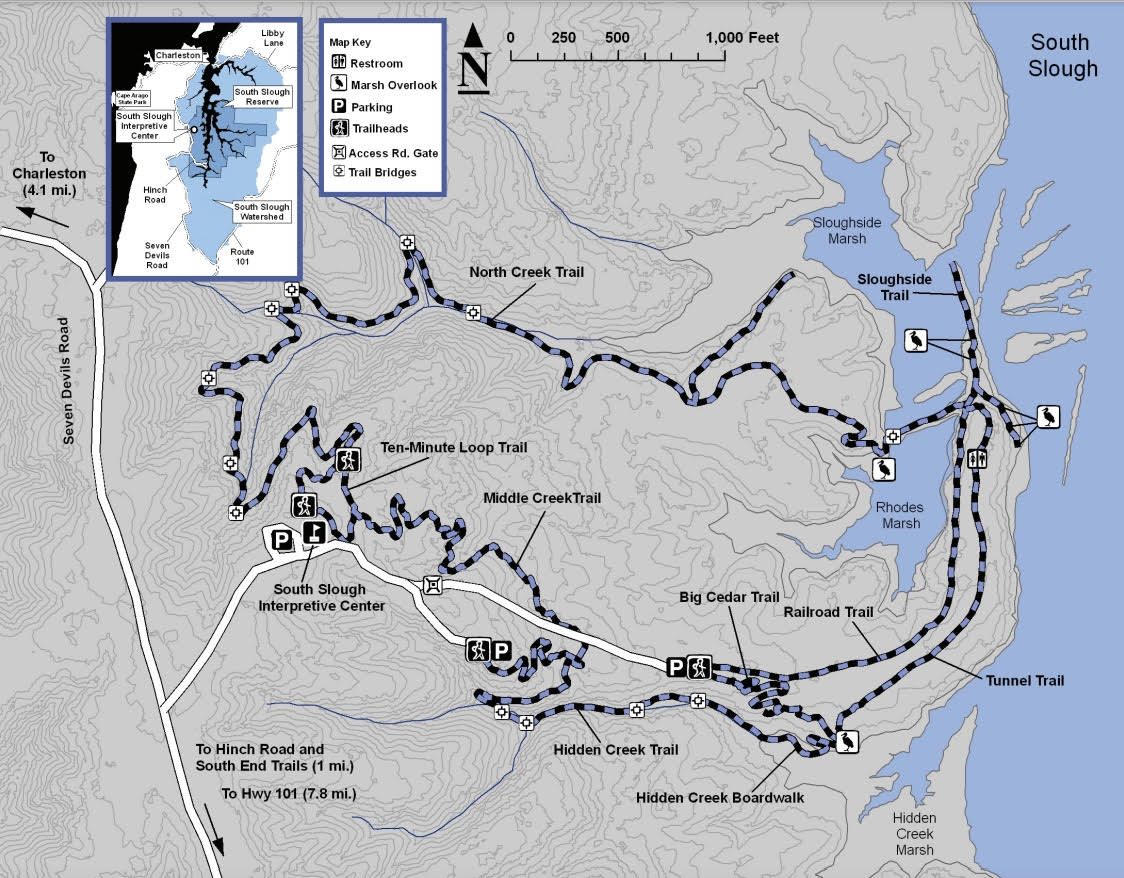 From the Interpretive Center Ten Minute Loop Trail (.17 mi.) Short loop trail begins and ends at the Interpretive Center. This highly accessible trail accommodates all ages and hiking levels, and provides a unique opportunity for visitors to learn about and appreciate the South Slough Reserve.
North Creek Trail (1.5 mi.) Wildlife viewing trail descends through a temperate rainforest and connects to Sloughside Marsh. Dogs are not permitted on the North Creek Trail.
North Creek Spur (0.15 mi)
Middle Creek Trail (.47 mi.) Connects the Ten Minute Loop Trail with the access road and Hidden Creek Trail.
Hidden Creek Trail (.75 mi.) Hidden Creek Trail meanders through the riparian area of Hidden Creek and crosses a boardwalk over a freshwater swamp and salt marsh.
Big Cedar Trail (0.25 mi.) Big Cedar Trail is wheelchair accessible and takes visitors through the forest and out to an overlook platform for a scenic view of the slough.
Railroad Trail (0.4 mi.) Follows the grade of an old logging railroad.
Tunnel Trail (0.4 mile) Parallels the Railroad Trail.
Sloughside Spur (0.1 mi.)
Marshside Spur (0.07 mi.)
The south entrance to the reserve provides access to more trails, which feature forests, marshes and former homestead sites. We recommend downloading a free trail map if you're planning to make the trek! Brochure and trail map More info & maps can be found at alltrails.com/trail/us/oregon/south-slough
#2- Biodiverse Habitats, Trees & Plants "The property covers such a diverse landscape and the trail is so well placed, you'll be thrilled at each change in landscape and water as you hike along."- Kathy H
South Slough encompasses a mixture of open water channels, tidal and freshwater wetlands, riparian areas, forested uplands and lush coastal vegetation. Plant lovers delight in exploring the flora and fauna that can be found along the trails. Some common plant species found in the SSNERR include Evergreen huckleberry, Pacific Sword Fern, Port Orford Cedar, Salmonberry, Roosevelt Elk, Salal, Sitka Spruce, Baltic Rush, Fleshy jaumea, Pacific silverweed, Salt grass, Seaside arrowgrass, Tufted hairgrass, Skunk cabbage, and Eelgrass, just to name a few.
At low tide, the estuary is exposed as mudflats. Though mudflats appear empty, but millions of clams, shrimp and worms live just below the surface.
#3- An Abundance of Wildlife Viewing Estuaries, like South Slough, are places where rivers meet the ocean, and salt and fresh waters mix. They are among the world's most productive ecosystems and nourish hundreds of species of fish, shellfish, and invertebrate animals, including young Dungeness crab, salmon, herring and oysters. Salmon spawn in forest streams.Tidal channels throughout the SSNERR provide habitat for river otters, beavers, marine mammals and fish. The bountiful forest is home to many species of small mammals, bats, amphibians, reptiles, elk, black bear and even bobcats. SSNERR is also known for its various bird species, as it's a perfect stopover for migrating birds. It is not uncommon to spot Bald Eagles, Osprey, Great Blue Herons, Egrets and Belted Kingfishers.
#4- Substantial Environmental Benefits Many people do not realize the impact that estuaries, like SSNERR, have on ecosystems and our daily lives. Estuaries are an irreplaceable natural resource that must be carefully managed for the mutual benefit of all who enjoy and depend on them. Here are just a few benefits many of us take for granted (Source: www.water.epa.gov ):
Estuarine ecosystems serve as natural barriers to buffer against storms and floods, absorb and store carbon, and provide critical habitat for commercial and recreational fisheries.
Estuarine environments are among the most productive environments on earth, creating more organic matter each year than comparable-sized areas of forest, grassland, or agricultural land.
Thousands of species of birds, mammals, fish, and other wildlife depend on estuarine habitats as places to live, feed, and reproduce. Many marine organisms, including most commercially-important species of fish and crab, depend on estuaries at some point during their development.
#5- Peaceful Environment & Quiet Solitude The past 18 months haven't exactly been optimal for crowded destinations. Many folks are seeking wide, open spaces they can safely explore while social distancing. With more than 5,000 acres located in the Coos estuary, South Slough NERR provides ample opportunities for folks to spread out safely and reconnect to nature. "I have been hiking the trails at South Slough for almost 30 years. It is one of the few places where I can spend 4 or 5 hours completely alone with Mother Nature and her amazing creatures," writes Evelyn L on Facebook .
#6- Extensive Water Trails & Paddling Opportunities In addition to riparian areas and forested uplands, SSNERR is well-known among paddling enthusiasts for its vast open water channels, tidal and freshwater wetlands. The ebbing and flowing tides seem to make most paddling excursions a little easier. We recommend embarking on one of the Estuary Paddle Trips offered by the Reserve throughout the year. Experienced guides take visitors through spectacular habitats that cannot be accessed from the ground. Participants may bring their own kayaks or canoes, or rent one from SSNERR. Click here for a schedule of their guided tours. Here are more resources with additional information:
#7- Educational Opportunities.
"Since its founding as the nation's first National Estuarine Research Reserve, the South Slough National Estuarine Research Reserve (Reserve) has been a leader in improving the stewardship and understanding of Pacific Northwest estuaries and coastal watersheds." - South Slough National Estuarine Research Reserve Management Plan
While South Slough NERR is full of recreational opportunities like hiking and paddling, it also serves as a living laboratory and classroom for coastal research and education. The research conducted here helps improve our understanding of estuaries and coastal wetlands, as well as climate change , water quality, weather patterns, and species & habitat monitoring. The Reserve also has a robust community education program that offers classes, workshops and hikes for all ages. Check the website often for upcoming events, and for the summer camp schedule. Many of their educational and outdoor programs are free or offered at a low cost to cover materials. More information
#9 You Can Explore at Your Own Pace Whether it's for a few hours or a full day, South Slough NERR allows families, hikers, kayakers, wild-life watchers alike to chart their own course and go at their own pace. The Reserve offers guided tours and events, but most visitors agree a self-guided tour walking or paddling through this protected area of land and estuary suits them fine. Taking an educational class or a guided birding trek, kayaking, attending a native plant workshop, hiking the trails, or viewing the marsh are just a few activities you will find here. Download this brochure and trail map to map out your own adventure!
#10- It's a Great Place to Bring Kids.
"My family love this walk. Fun to see the birds and animals, as well as flowers, trees, and mushrooms." - Alex M.
"South Slough is one of the best trails in the area. My kids love this place!!!" - Jesse F. Google Reviews
"The walkway is wooden wherever there are trouble spots. Very well maintained and quite peaceful. My 9 year old and I were able to navigate the 3 mile trail with no problems. Great views."- Heather C.
Hands down, South Slough NERR is one of the best destinations for children of all ages on Oregon's Adventure Coast: Coos Bay, North Bend, Charleston. Aside from the vast educational opportunities and fun activities, visitors agree that the SSNERR staff are exceptionally accommodating to families. Visitors say the Reserve is relatively easy to navigate and offers clean, accessible restrooms (an absolute must for families with small children). Well maintained trails and a boardwalk that winds through fresh and saltwater marshes make it ideal for nature walks any time of the year. "What an asset to this area! Beautiful trails, very friendly and helpful staff, great for all ages!!" - Heather R., Google Reviews
If you haven't had the opportunity to visit South Slough NERR, we urge you to do so! "A must place to visit." says- James M on Google Reviews. "My favorite place ever! It's so beautiful" says Nicki C. "If you haven't been there it is a must that you do. Awesome nature and experience". - writes Sif Gunnarsdottir-Locken.
South Slough NERR is located at 61907 Seven Devils Road, Charleston, OR 97420. For more information, go to www.oregon.gov or call (541) 888-5558 for info. You can also find more information on Facebook & Twitter . To learn more about National Estuaries Week and how to support your local estuaries like South Slough NEER, please visit estuaries.org .
South Slough Estuarine Research Reserve trails and waterways are open daily from dawn to dusk. Restrooms are open on weekdays from 8 a.m. to 4 p.m. Learn more . The Reserve Visitor Center remains closed until further notice. Most programs, field trips, events, and meetings have been cancelled until further notice. Limited programming for adults and children is available.
We look forward to welcoming you back to Oregon's Adventure Coast: Coos Bay, North Bend, Charleston. For more travel inspiration, visit our Adventures page and our Trip Ideas page to learn all there is to do on Oregon's Adventure Coast! Or request a visitor's packet today . Please follow Oregon's Safe+Strong guidelines when you visit to keep our community safe, and remember that face coverings are required in public spaces. Do not hesitate to contact us with any questions.
Additional Resources
Partnership for Coastal Watersheds Bureau of Land Management Coos Bay District Cape Arago Audubon Society Confederated Tribes of the Coos, Lower Umpqua and Siuslaw Indians Coos Watershed Association Coquille Indian Tribe Oregon State University National Estuarine Research Reserve System - NOAA NOAA Estuary Education Northwest Association of Networked Ocean Observing Systems Oregon Department of Fish and Wildlife United States Fish and Wildlife UO - Oregon Institute of Marine Biology